Melbourne Rotomould
When you need a manufacturer of rotationally moulded parts, someone who can handle assembly processes, specialist packaging and logistics, Melbourne Rotomould is your best choice.
What we do is rotational moulding. We manufacture plastic products which are often large with a hollow cavity, however there are many variations to this theme. Applications range from high grade consumer products through to industrial strength equipment. All of this being done locally in Victoria (Australia).
Many of our products are made for and used by well respected brand names. The diversity of applications will surprise you.
What We Make
You will find our high quality Melro branded products in major plumbing, hardware and irrigation retailers throughout Victoria. We also mould for other major brands over a diverse range of categories, some of which you will see as you explore this site.
With only a few exceptions, our rotomoulded plastic products have a hollow design. They are also typically quite large. Additionally, we are an active custom plastic fabricator of unique designs. These fabrications regularly include components such as rotomoulded parts, welded plastic sheet, foam, poly pipe and custom fittings.
Rotational Moulders Association
Melbourne Rotomould is a passionate and long term member of the Association of Rotational Moulders Australasia (ARMA), and a strong supporter of our local Rotomoulding industry.
Director Tim Leed is past president of the Association having contributed for a number of years on the board.
Tim and fellow director Steven Kyval have been regular presenters and contributors at a number of rotomoulding conferences. All staff who have attended ARMA events have greatly enjoyed keeping up to date with the latest developments and sharing information with moulders from around the world.
Certified Products
All identified above ground tanks are certified to Australian standard AS/NZS 4766 Polyethylene Storage Tanks for Water and Chemicals (Licence: SMKP 21567). This particular standard represents world's best practice and is very comprehensive.
It importantly addresses tank design requirements, the use of certified raw materials (which includes certification to AS/NZS 4020 and 2070), manufacturing processes and quality assurance testing.
We are an OEM manufacturer of below ground tanks for wastewater treatment businesses. Certified business customers benefit from Melbourne Rotomould's certification to Australian Standard AS/NZS 1546.1:2008 On-Site Domestic Wastewater Treatment Units - Septic Tanks (Licence: SMKH 25370).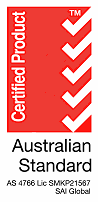 Quality Manufacturing
Melbourne Rotomould is a quality endorsed manufacturing company to ISO 9001:2015 (Licence: QEC 25164). We highly recommend this certification. Our systems and processes make it a real pleasure to do what we do.